There are five best practices that many organizations have shared based on things they did right and things they would do differently if starting again.
In my 20+ years of working in quality improvement using Lean and Six Sigma process improvement concepts and tools, I have witnessed two foundational ways in which organizations approach the implementation of quality initiatives.
Some organizations give it their own unique name. Something similar to XYZ Organization Quality First, Quality Vision, or Quality Care. Next, the program is rolled out with all the pomp and circumstance of the newest windfall. They train employees on the tools, run projects, and celebrate success. These organizations consider themselves healthcare organizations with a quality improvement program.
Other organizations go a different direction. They want to become continuous improvement establishments. No unique names, no program timelines. They simply start training the entire organization on the mindset and toolset of continuous improvement (also known as "kaizen"). The work is not something that is added to the culture, it just becomes the way that work is completed.
I am often asked which one is best. While I have seen many organizations have incredible financial success with the first option, the one that actually changes a culture and makes the financial successes long-lasting is option two. But it does not happen overnight. World-class organizations contend that it can take 3-5 years to truly enhance the culture, but it is worth the wait.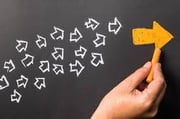 Improvement needs to become a treasured part of the culture, not something that makes people feel like things aren't going well. We've all had those performance reviews where a superior tells you your weaknesses through the lens of "opportunities to improve." The goal for those individuals is to one day have nothing to improve. But guess what? That day never comes. There are always things that can be done better, cheaper, faster. Technology changes, expectations change, products change, and processes change. World-class organizations realize that improvement is not the destination; it is the means to the customer satisfaction and financial success that makes everyone happy.
There are five best practices that many organizations have shared based on things they did right and things they would do differently if starting again.
Teach the entire organization about TIMWOOD Plus (8 common forms of waste). This will help them to see waste and non-value-added activities that should be eliminated. Use foundational tools such as 5S, root cause analysis, and Poka-Yoke (error-proofing) to make things more efficient (faster and cheaper) while explaining the concept of variation to make things more effective (defect-free).
Develop a pipeline of processes that need to be fixed through the rigor of a Define, Measure, Analyze, Improve, and Control (DMAIC) project.

Define
It all starts by clearly defining the problem. A problem is defined as a question or situation that calls for a solution. The first step in defining the problem is to quantify the frequency of occurrence and the impact when it occurs. This is harder than it sounds. Most people want to solve the problem before the problem is even defined.
Measure and Analyze
The Measure and Analyze phases of the DMAIC structure involve baselining a key performance metric of the problem so there is something to measure the improvement against. Additionally, this is the phase where the focus shifts from the effects of the problem to the possible causes. These are called factors. And the best way to find the most likely factors is to facilitate root cause analysis. It is so much easier to fix a problem when you truly know the root cause(s).
Improve
When you reach the Improve phase of DMAIC, you are ready to generate solutions to the problem. Albert Einstein once said, "The significant problems we have cannot be solved at the same level of thinking with which we created them." This is where critical thinking techniques come in. We need to shift our thinking with variations of brainstorming such as Random Word, Morphological Box, or Reverse Thinking — techniques designed to see a problem from a fresh perspective.
Control
The last phase of DMAIC is the Control phase, and it primarily deals with change management. As it turns out, we humans aren't very good with change. We might want it in theory, but our habits get in the way. This phase deals with some necessary steps to sustain the gains made by solving a problem. Without this phase, many of the problems return, thanks to the tendency of those who need to sustain the solution returning to what they have done before.

Train a cross-functional group of Quality Leaders (known as Green Belts for more common problems and Black Belts for more advanced problems) and give them the time to work projects and improve processes and systems using the proper structure. It might take the focus of a kaizen event (3-5 day workshop) or a full-blown project led by project managers trained on Lean Six Sigma concepts and tools.
Develop and monitor key performance indicators and make the entire organization aware of the goals and progress. You would not want to watch a sporting event without knowing how one scores or what the score is. Yet we often treat our organizational goals and progress as a well-guarded secret. I'm not suggesting that this is something that patients should see, but it can certainly be displayed in locations that will keep staff well informed (intranet sites, employee areas, staff newsletters, etc.).
Communicate and train continuous improvement every single day. Celebrate accomplishments. Reward achievements. Refill the improvement pipeline. Organizations that rate the highest in employee satisfaction are those that make people realize the value of their contributions. Healthcare workers will be better equipped to connect with patients if they are happy with their environment. This requires a mindset that values continuous improvement.
---
About the Author


Anne Foley, PMP, MBB, CSSBB is an author, speaker and training consultant with Corporate Education Group (CEG). Anne has spent 25 years of her career using data to identify root causes of defects and non-value added activities in processes. She incorporates data collection and analysis to decisions ranging from routine to complex. An energetic and interactive trainer, Anne has been leading virtual and traditional training classes, workshops and conferences for 18 years.
---
About Corporate Education Group

Corporate Education Group (CEG) delivers talent strategies and development solutions that align with targeted business goals to transform organizational performance. From assessments to advisory consulting, program design, training delivery and measurement, we identify the right solutions to unlock business value. Our more than 30 years of experience rooted in corporate training enables us to engage in collaborative partnerships and taught us that there is no one-size-fits-all solution when it comes to optimizing performance. Through our strategic alliance with Duke University Management Training, we offer premiere certificate programs backed by a renowned higher-education institution.
CEG is a Charter Global Registered Education Provider for the Project Management Institute (PMI)®, a Member of PMI's Global Executive Council, an Endorsed Education Provider for International Institute of Business Analysis™ (IIBA®) and an APM Group (APMG)Accredited Training Organization (ATO) for PRINCE2® and the Business Relationship Management Institute (BRMI).