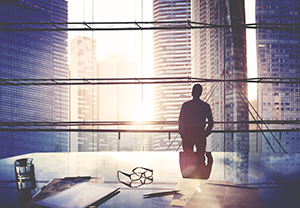 Organizational benefits of leadership training.
Your leadership team spends considerable time developing strategy. A substantial portion of that work is creating the vision, mission and values that will delight the customer and motivate the workforce. Often strategy formulation will include an audacious goal that will change the business in the appropriate ways to make it viable in the future. And, this work is just the tip of the iceberg in terms of what must come next to drive the organization forward.
Is your management team up to the challenge? What obstacles will they face? Consider difficulties like:
Is the team prepared to drive consensus and hone the message of the future?

Who are those leaders and change agents within the organization that will help drive strategy execution – are they ready?

Is the workforce aligned? Are the resources available, with the necessary skills, to be doing the right projects at the right time?

Can our current business operations run more efficiently while we experiment with new business models?

Strategy realization transpires over years; will our next generation of leaders be ready to take the reins when their superiors and mentors retire?
Organizations invest in leadership training to address many of these concerns. That's because the format of a leadership program combines classroom training, practice, and feedback loops to boost critical skills such as decision making, strategic planning, portfolio planning, ideation, teamwork, and effective networking.
The networking perspective is important. In the Harvard Business Review Article "How Leaders Create and Use Networks," Herminia Ibarra and Mark Hunter describe how effective leaders learn to employ three kinds of networks for growth and support purposes:
Operational – getting work done efficiently with a focus on building strong working relationships.

Personal – enhancing personal and professional development by reaching out to contacts who can make referrals.

Strategic – figuring out future priorities and getting stakeholder support for them by creating inside-outside links.
The strategic network is the one that provides the relationships and information sources to hone ideas and build coalitions of support, and this is the most difficult for people to build. Many leaders need help to properly transition their skill set from being functionally oriented to being politically savvy and able to build and leverage stakeholder support from within and outside the organization.
Leadership skills are not just meant for the senior team. Projects are the means for driving change in an organization. Project managers and sponsors must be excellent communicators, influencers and change agents. They are responsible for maintaining the vision of success and must convince a team to adopt this vision over their own interests. Project managers and sponsors use their leadership skills to keep their projects in sync with organizational priorities, build coalitions of support for the project, and create high-performing teams.
Business relationship management (BRM) is a particular field of study under the leadership training umbrella that will help your organization deliver on its value proposition. The Business Relationship Body of Knowledge includes competencies like:
business transition management and the conditions for successful change programs that minimize "value leakage;"

portfolio management disciplines and techniques to realize business value;

aligning services and service levels with business need; and

how to communicate effectively and persuasively.
The business relationship managers within an organization help to ensure strategy execution and organizational capability.
Building leadership competencies through effective leadership or BRM training programs is the kind of investment every organization with a compelling mission, and need for operational excellence, should strongly consider.