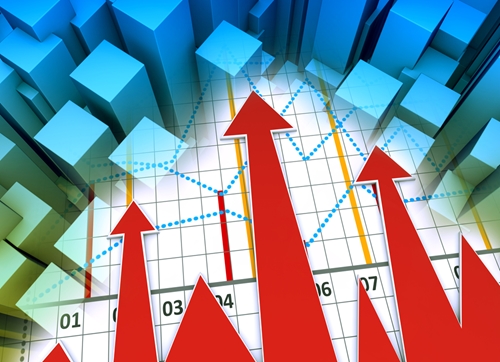 Corporate Education Group (CEG) is proud to jointly announce the re-launch of our partner's, BPTrends Associates (BPTA), Business Process Management Programs and the launch of our brand new Business Process Management Certificates.
CEG's Business Process Management (BPM) Programs are created and delivered by BPTrends Associates (BPTA), a global pioneer and leader in business process management. Developed for organizations and professionals interested in business process improvement, the curriculum is designed for serious business managers, business analysts, and practitioners involved in process-based change and the implementation of process solutions. The BPM Curriculum establishes a consistent, integrated and scalable BPM Methodology, including a common language and common tools and techniques that will assure efficient collaboration among all process practitioners within an organization.
Three Unique Curricula and Certificate Programs for All Levels of Expertise:
The BPM Curricula incorporates the latest business process methodologies and covers a wide range of topics, including:
The key considerations of a process-based approach to business process change management

The strategic, tactical and operational considerations in a comprehensive BPM framework

Planning for cross-organization acceptance and implementation

Organizing and documenting the relationships between organization strategy, value chains and key business processes or competencies

Developing a model of the business processes in an organization
Analyzing a process measurement system

Organizing a process governance system

Organizing a BPM Center of Excellence
Methodology and Curriculum of the BPM Programs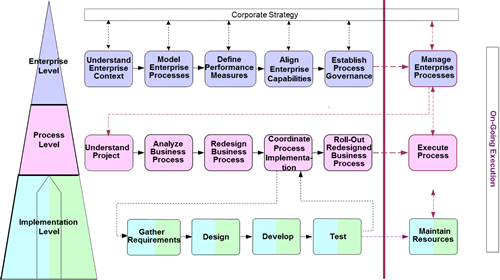 The BPTA BPM Training Curriculum is based on the BPTA BPM Methodology, and is the most comprehensive, integrated and scalable BPM Methodology and Curriculum available today.
The BPTA BPM Professional and Advanced Professional curricula are focused on the activities depicted at the Process Level (above). The Business Process Architecture curriculum is focused on the activities depicted at the Enterprise Level (above).
These programs have been newly revised and updated based on current market research and feedback from BPM thought leaders, BPTA's global partners, and clients in the international BPM community. The BPTA curriculum is recognized by the International Institute of Business Analysis (IIBA®), the Association of Business Process Management Professionals™ (ABPMP™) and the Object Management Group™ (OMG™).
Certificates
Upon the successful completion of any or all of the three BPTA BPM Programs, participants now have the added option to take the corresponding BPTA BPM certificate exams and to earn one or all four of the BPTA BPM Certificates.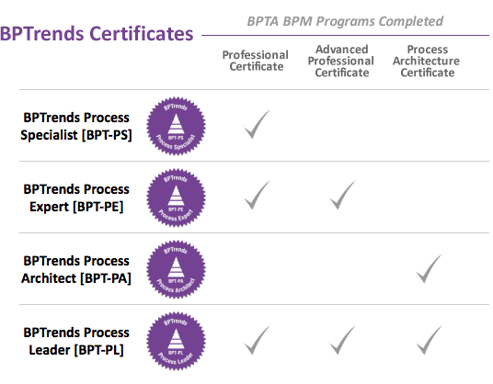 Duke University Alliance: Building Professional Credibility
You can also aquire a BPM Certificate through CEG's alliance with Duke University to build professional credibility from a renowned higher-education institution. Participants who opt for any of the three CEG/Duke University Management Training Business Process Management Programs are required to pass an exam at the end of each classroom session to successfully complete the program.