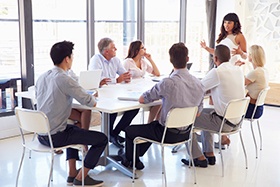 Learn how project management training will help your organization execute more efficiently and effectively.
Project management expertise and skilled resources are two key reasons why projects succeed according to research studies. Companies now, more than ever, are relying on projects to further their strategic objectives. Considering that loss of new revenue or a missed opportunity is at stake when a project fails, it is very important that everyone who participates in a project understand their roles and responsibilities, and that the person at the helm has the skills to manage it effectively. Organizations that offer training in project management are more efficient and better equipped for these challenges.
Here are some examples of how project management training can support organizational objectives:
Consistency: As organizations invest in their project management practices, a reliable experience emerges. Projects have a familiar structure of meetings, communications, expected roles and deliverables. Project terminology like scope, sponsor, and stakeholder, is well understood. Confidence increases as the experience and expectations of projects are consistently delivered across the portfolio.
Credibility: Credentials are evidence of experience and knowledge. Project managers with credentials bring credibility to the organization. Clients and vendor partners will know that your organization invests in its people, believes in best practices, demands quality performance, and can demonstrate repeatable processes.
Motivation: Never underestimate the motivational value of a market-friendly skill that training and participation on a project offers. An organization that invests in its people inspires them to excel for the benefit of the company by offering them an opportunity to stay cutting edge in their skill sets.
Career Path: For many organizations, promotional opportunities require having mastery of certain skill sets. Employees often need foundational training coupled with an opportunity to gain experience, and then more advanced training when ready. This combination of just-in-time training and exposure to advanced experiences is important for organization retention plans.
Organization Maturity: Organizations that invest in continuous learning for their workforce are also making an investment in the organization's overall capabilities. Capability models define early stages of process implementation as ad hoc in nature because results are unpredictable. The more investment in process optimization, the more reliable and innovative the organization becomes.
Bottom line, invest in project management training and watch your organization execute more efficiently and effectively.